(The Independent) "I want Colombia to be different," says Jhon Benavides, an aspiring barista and, from the age of 14 until last year, a guerrilla in the Revolutionary Armed Forces of Colombia (Farc). He's just prepared a brew, carefully weighing out freshly ground coffee beans before making some cups of arabica grown here in Popayán, an agricultural town in the department of Cauca.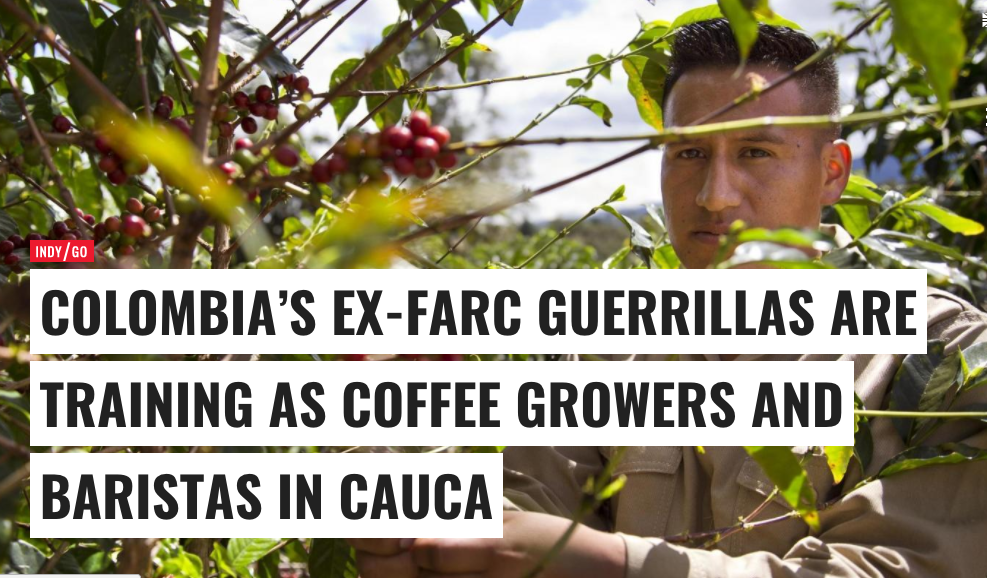 The 28-year-old married father-of-two has been living in Resguardo Pueblo Nuevo zona veredal de paz – one of three rural United Nations-managed demobilisation zones set up for 400 ex-rebels who downed weapons after Farc signed a peace agreement in November 2016 with Colombia's President Juan Manuel Santos in Caldono, Cauca. A Farc stronghold during the 53-year conflict, Cauca's fertile, volcanic land that soars to 2,100m above sea level has earned its place as Colombia's fourth-largest coffee-growing department, with 95,000 hectares under plantation, microlots farmed by 93,000 families. In 2016, however, another 36,000 hectares were dedicated to coca, according to Insight Crime, also making Cauca Colombia's third-largest cocaine cultivating department.
For the rest of this please visit The Independent.