(Good Beer Hunting) It's a balmy summer afternoon when I set off with Hernán Castellani on a cruise around the low-slung suburbs of Greater Buenos Aires. We're in search of what was, until recently, elusive here: good beer, made with care. Castellani, who operates the cuckoo brewing project Sir Hopper, has offered to take me to his favorite taprooms, and to the bars most beloved by the city's brewers. And who am I to object?
Kraken, a brewery that runs tastings and courses in the Caseros district, is our first stop. We sample its Lemon Pie Pastry Sour and a just-launched, hop-based, sugar-free soda in the first-floor taproom, while production manager (and Castellani's long-time buddy) Nico Santarossa hovers nearby. Next, we move on to Bierhaus, a more ambitious taproom set-up that, by 5 p.m., is as jammed as pandemic drinking rules allow.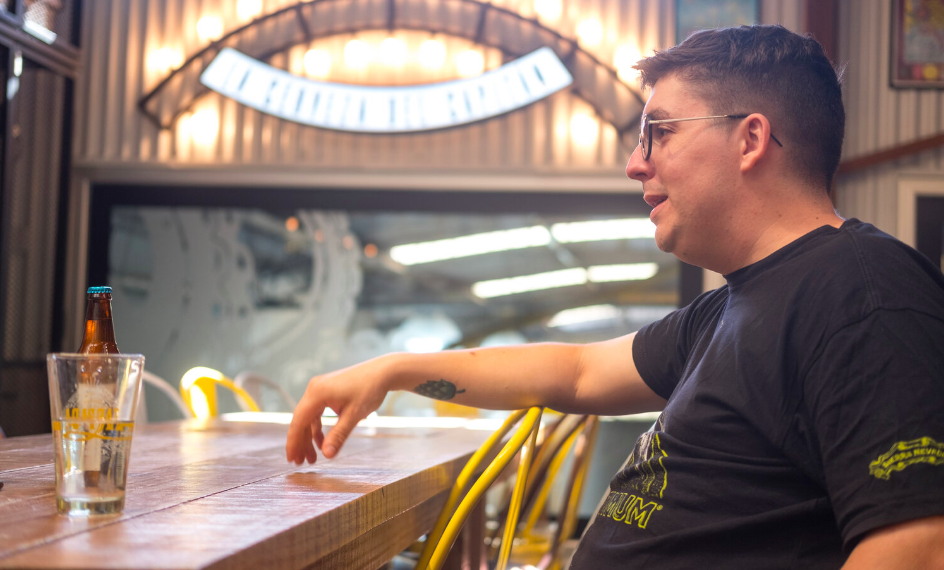 Two bars in and it's obvious Castellani is in his element, greeting owners and fellow brewers. Later, at our fourth destination, Strange Brewing—curiously located in the residential, middle-class neighborhood of Colegiales—someone offers a fist bump, congratulating Castellani on his Session IPA.
"Who's that?" I ask.
"No idea!" he says.
An unlikely-looking local idol with a jolly, bespectacled face and a single hop tattoo on his forearm, Castellani brushes off the hero-worshipping. It must be routine. He needs little introduction in his home country's beer circles, where he's recognized as a maverick brewer, a long-time South Beer Cup judge, and one of the few responsible for breathing life into Argentina's craft beer industry around a decade ago.
For the rest of this, please visit Good Beer Hunting.
Photos: Damián Liviciche