(Monocle) Achieving sustainable business practices results in a virtuous circle that benefits the production process, employees, communities nearby and the planet.
Sofía Pescarmona is a third-generation co-owner of Argentina's Bodega Lagarde, founded in the country's most famous wine province, Mendoza, in 1897. She runs the winery with her sister Lucila (pictured, on left, with Sofía), who previously worked in New York and is in charge of the export side of the business. The firm's 70 members of staff look after five vineyards.
Lagarde is distributed in more than 40 countries and is the oldest winery in South America to adhere to B Corps standards (it received its certification
in 2019), which combines social and environmental performance with the
need to make a profit. At Lagarde, that means working on issues including water conservation, waste management and producing lighter bottles. Pescarmona tells Monocle how it makes wines better. — SMW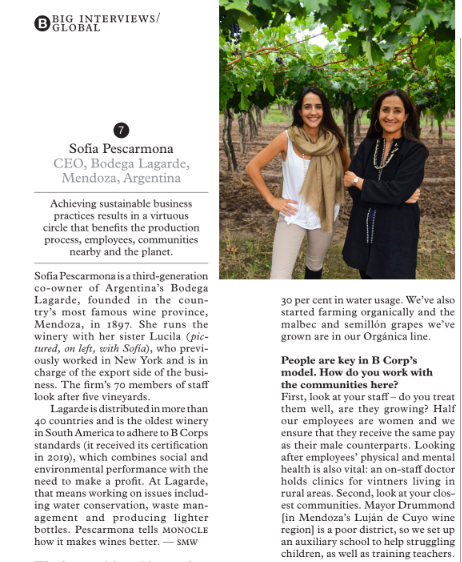 For the rest of this, please see Monocle April 2021.