(The Points Guy) Argentina has been considered a relatively inexpensive destination for visitors since 2001, when the South American country's economy collapsed. Seventeen years later, it's better value than ever.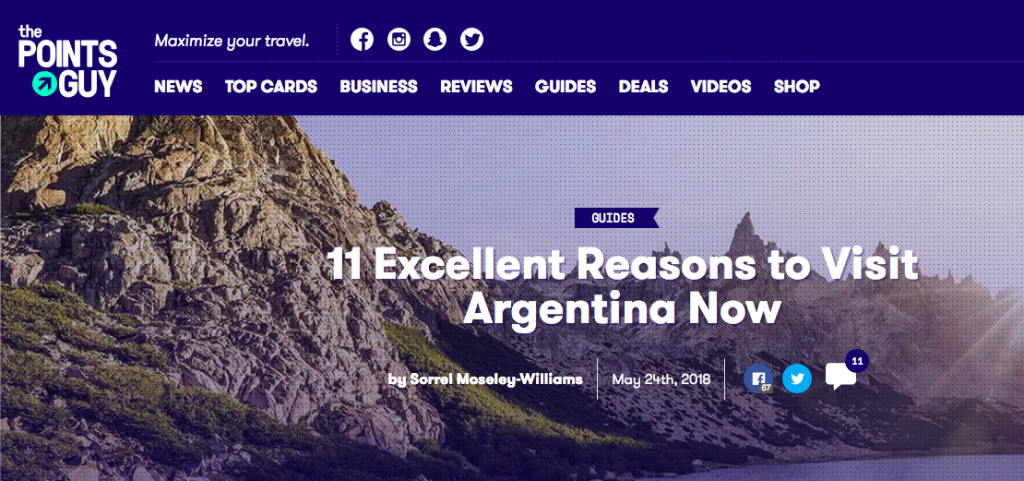 In May, the Argentine peso plunged to 24.99 per US dollar, making it "the worst [currency] in emerging markets," according to Bloomberg.
While this potentially spells turbulent times ahead for Argentines, who already factor in 25% annual inflation to daily budgets, it's a great time economically for Americans to take advantage of a strong dollar while supporting the local economy.
Of course, there are more than a few other reasons why now is a great time to visit Argentina. It's almost winter in the southern hemisphere, meaning the temperatures are much more mild and tourist attractions are noticeably less crowded.
During a trip to Argentina, travelers can venture to the Mendoza wine region and sample a better class of vintage, or book a room at one of the most exciting new hotel openings of the year, near the iconic Iguazú Falls. Follow the path less traveled to the relatively unknown Jujuy province, or splash out in Buenos Aires on a tailor-made leather jacket, world-class artwork or an upscale dinner at one of the World's 50 Best Restaurants.
Best of all? You can easily use your points and miles to get to Argentina, making it an even more affordable option for travelers.
For the rest of this please visit The Points Guy.