BUENOS AIRES — The hummus is so sexy it's blushing, and the bar and kitchen are equally alluring. The latest 'new Jew' dining concept from chef Tomás Kalika, don't fumble around: go straight to fifth base and let Mishiguene Fayer set you aflame.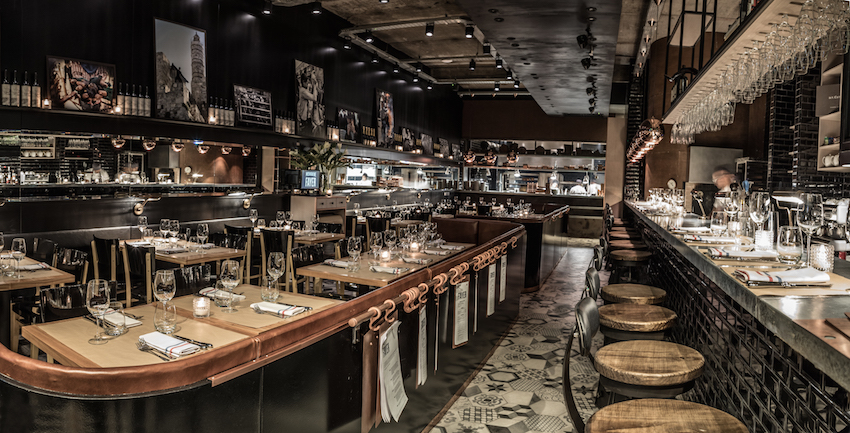 When Tomás opened Mishiguene (Buenos Aires Herald, November 16, 2014), a kitchen brimming with flavours based on the Jewish diaspora, such as "chicken consommé from our grandmother that comforts the soul," but using contemporary culinary techniques, he nailed an original concept in immigrant cooking in Argentina: Jewish fine dining.
And, thanks to the success of that initial Palermo Botánico establishment, three years on Tomás, along with partner Javier Ickowicz, has opened Mishiguene Fayer (fire in Yiddish). While the latest addition aims to be a casual Israeli offering in terms of menu and aesthetics with the added bonus of five ways of cooking with fire (who needs seven, Mr Mallmann?), as is often the way with younger siblings, sexy little sister Fayer might prove to outshine Mishiguene.
First, let's talk fires, because this is the all-important element that gives Fayer its Argentine identity. The five are mangal (for fast roasting), parrilla, smoker, rotisserie and tannur (tandoor). Custom-designing the kitchen himself (and he's so rightly proud of it, he gave me a tour), Kalika might have anything from chicken wings to whole pineapple and a rack of lamb rotating gently on skewers, while an array of breads such as khachapuri pizza dough canoes and inflated pitas are baked in the stone-and-clay tannur. With five fiery techniques, one of them is bound to set your tastebuds alight.
Second, let's talk basic sex appeal. While Mishiguene is classy and sophisticated with sultry lighting and snooty service, Fayer is a lot sexier with its uninhibited approach — even though Tomás insists it's more of a family affair here.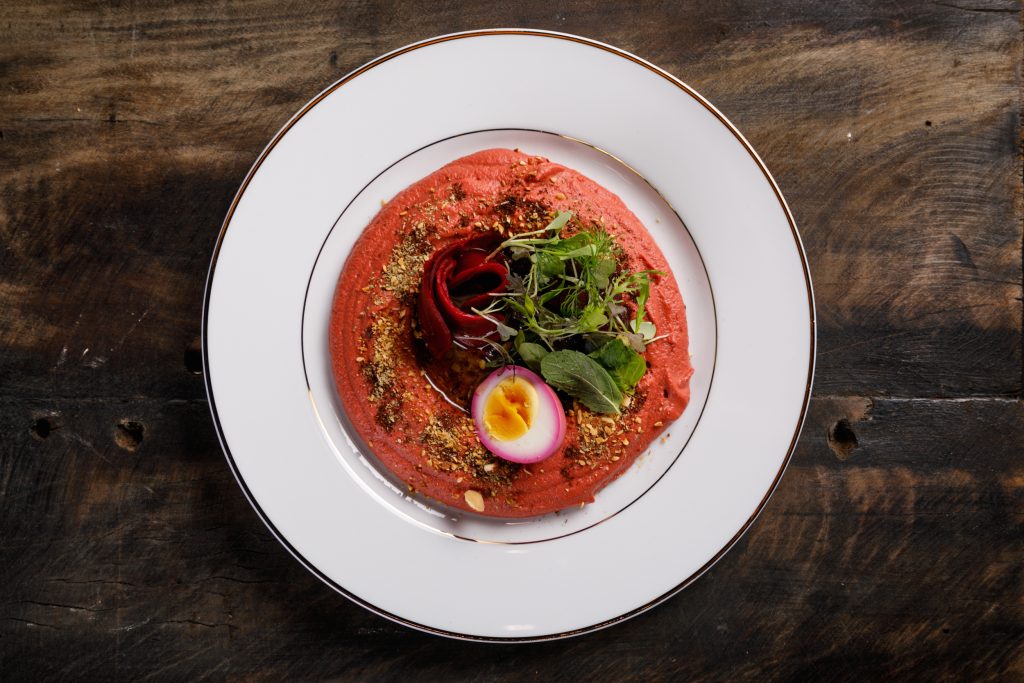 Black is the new white in terms of décor, and where crisp ivory tiles have swept across porteño establishments over the past few years (copper fixtures are the latest 'thing' for 2017), Fayer's welcome committee comes in the shape of an ebony-hued brick bar, with tall wood-and-steel stools, hung glassware gleaming against the black backdrop. Great for single diners who hate feeling conspicuous seated at a table for one. The next eyecatcher is an array of large-format photos, some capturing religious rituals such as Kapparot, where a chicken is waved around to atone for sins ahead of Yom Kippur, others depicting food scenes such as a kosher butcher.
Food. After proving his mettle with fine dining, Tomás takes a more laidback attitude, with a greater array of dishes with which to get down and dirty with (that means using your hands, 'cos that's what Tomás does and it makes him happy). That aforementioned blushing hummus; a spanking twist on the classic using a beetroot base (240 pesos) and as pretty as a picture. Pick up a falafel and slosh it about in the four accompanying harissa, tahina, zhoug (spicy herb) and labneh sauces, creating your own flavour fun (175 pesos). All for sharing, of course.
Another tasty mess to get stuck into is khachapuri shakshuka (360 pesos), a Levant Mediterranean dish that had me at three-cheese collaboration — goat's cheese, mozzarella and ricotta — topped with a slow-cooked egg, all aboard the aforementioned pizza dough canoe.
Salads are numerous; a seasonal one focuses on cauliflower while the tabbouleh is fresh and crunchy. These six small salads change up daily (180 pesos). Definitely chomp down on some homemade pickle, a palate-cleanser if there ever was one.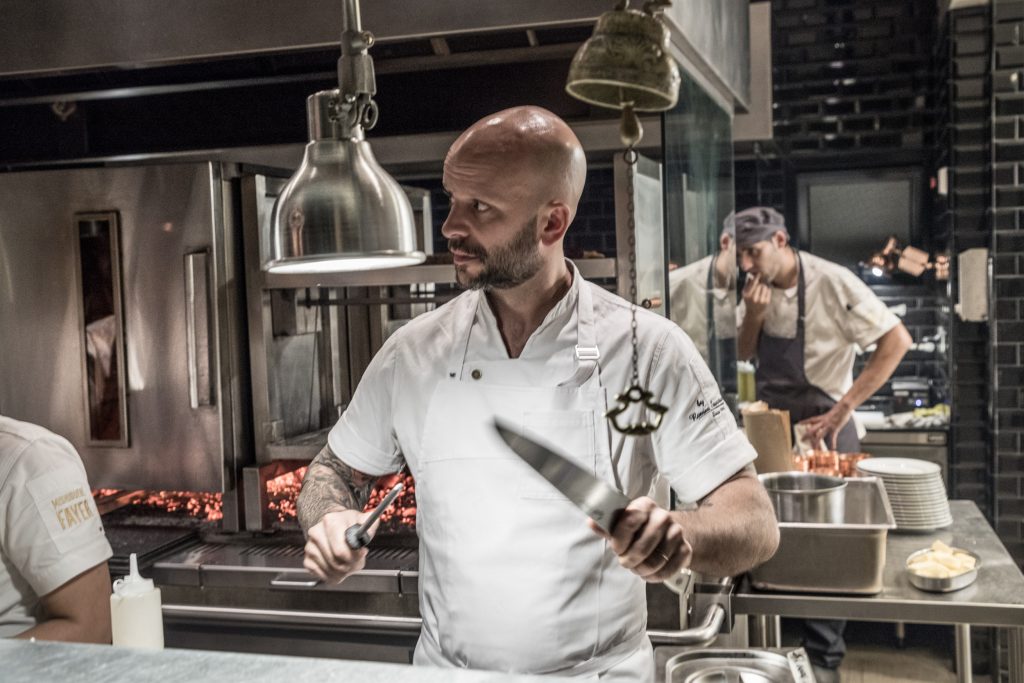 As for meaty mains, release your inner barbarian by ripping apart some lamb ribs with your bare hands. Grilled Argentine style on the parrilla over quebracho wood (420 pesos), Tomás watched on like a proud father as I sucked on the Patagonian meat, tender and flavour-filled, then grabbed a chunk of rotisserie pineapple topped with harissa and shoved that in my mouth as well, a refreshing alternative to mint sauce or red berries with one of Argentina's most underrated meats. Even getting your mouth into a mess is sexy, as the cordero tastes so good, but should you prefer to forgo the bathroom trip to clean up, make use of a custom-made Fayer-branded knife.
Other proteins I'd like to try next time include quail a la chermoula, marinated in white wine, spices and preserved lemons (220 pesos), and lamb merguez sausage paired with a labneh sauce and chickpea and herb salad (280 pesos).
Sweet dreams are made of baklava at Fayer, and it's not just a tiny spec of gooey pastry. No sir, this super-sized baklava (245 pesos) is delicious sticky honeyed goodness. Impeccable.
There's also a two-course lunch spesh on offer setting you back 380 pesos including a soft drink, which seems steep for a midday feed; Mezze Fayer is a more reasonable option, with three mezze such as hummus, falafel or khachapuri shakshuka and two drinks thrown in for 420 pesos. A fantastic take on teatime and far tastier than a wretched tostado de jamón y queso, this deal is only on from 4pm-7.30pm, an ideal post-work or oh-shit-I've-got-to-get-back-to-the-wife pick-me-up.
As Fayer threw open its doors just a month ago, Tomás admits some tweaking still needs to be done. Bartender Renato Giovannoni is putting together a more elaborate cocktail list, while I hear there's been a pastrami shortage — let's hope that returns to the menu shortly.
Let me make one thing clear: I liked this joint and I'm not faking it.
Buenos Aires Herald, 16 June 2017