(Buenos Aires Herald) After embarking on and documenting several surfing expeditions around Latin America, Joaquín and Julián Azulay's latest film-making project has taken them on a more ambitious adventure: surfing around Africa. Spending several weeks at a time living out of a converted ambulance, the brothers are currently in Senegal, Julián at the wheel, while Joaquín talks about life on the road in Africa.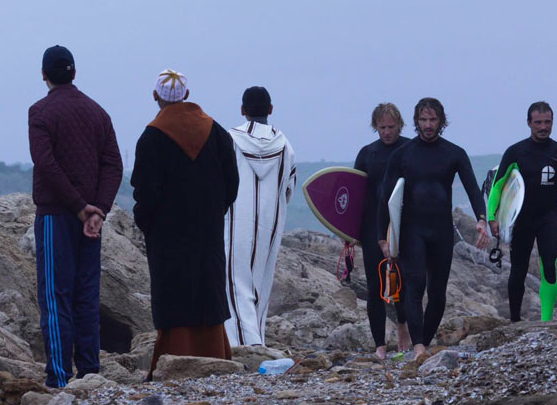 He says: "Julián and I have been travelling around the world since 2010 and traversed the whole American continent for 13 months. We documented everything although the idea was never to make a film — and we ended up winning a lot of awards for Gauchos del Mar.
"For our latest project we decided to document surfing around Africa. We bought a 1985 German ambulance, took everything out and built a house for five people with a kitchen and lots of water supplies, even in the roof, and left Marbella in Spain on a ferry for Morocco a few months ago. The plan is find waves with my brother and have a new experience in Africa telling people's stories via a documentary."
Life on the road
Living in a truck gives the Azulay brothers enormous flexibility but life on the road isn't always simple.
Joaquín says: "Starting off is always the hard part but once you're on the road, that's it. We live in a truck and that gives you the chance to sleep wherever you want. The idea is to find waves so we often sleep in front of the sea. The truck depends on us so we have to be very organised: four men living in a truck isn't easy plus we all have our ups and downs and need to be generous with each other. It's not just about keeping it tidy!
"It's not the easiest of situations and we have to be responsible as well as safety-conscious because we have a lot of filming kit on board. You can't just drink water anywhere — it needs to purified — plus malaria season is about to start so we've had to net off all the windows. We're continually doing maintenance. Though we love it, it's not easy and it's not just two weeks on the road, it will be more like two years. You have to be extremely prepared.
Relative values
The gauchos del mar's first stop was Tangiers, where Joaquín embraced Morocco's culture. "I went there for a week 10 years ago so being there for a month this time around allowed me to see lots of things. It's important to learn from people as you can value what they have — everything is relative, it's not that anything is better or worse, it's just different.
"Moroccans invite you to their homes, for example, and put a tablecloth on the floor as there aren't any tables. Men sit down together and eat with their hands while women dine elsewhere.
"When you're in the street, people weigh you up with a submissive look but they quickly want to invite you into their world. Morocco and Senegal are mainly Muslim countries and while we often hear awful things on the news about Muslims, the world 'Islam' means peace and the majority of people is peaceful.
"Of course, there are lots of challenges such as the language, being in a new country, being permanently exposed, mosquitoes, police corruption. Officers often ask for bribes but you have to be patient and try to speak their language. They are interested in their world and we understand that. We've been asked to show police images of what we have filmed and that can be hard.
"Morocco is part of a Sahara dispute and there's a lot of police and military control on the coast; we got stopped a lot and asked what we're doing. But it's very safe and we stayed with a Bedouin. We couldn't communicate with each other as he only spoke Hassaniya Arabic but he shared everything. We stayed in his tent and he fed us and gave us fresh milk every day — that was an incredible experience."
The brothers — whose first documentary Gauchos del Mar will screen on Netflix in July — are currently in Dakar with travel companion and surf colleague Sergio Anselmino.
"The capital of Senegal and western Africa, Dakar's a big city with around four million people. There's a lot of of tourism and foreigners living and we are parked outside a restaurant in front of the sea whose owners let us use their bathroom. There's a little beach, rocks and some great waves."
Keeping shipshape
As for spare time, Joaquín says: "There isn't any. It's the moment to sleep and rest. After filming, I download material, for example, and check sound and images. We have to think about the next country, getting the next visa, that the solar panel is clean so that we have electricity the following day.
"The truck has to be shipshape and while it's an incredible vehicle, it's old. The fifth person on the trip (the fourth companion surfer Jatyr Berasaluce recently returned to Brazil), we really have to look after the truck's health because it's taking us everywhere! But the truth is there's always a million things that need to be seen to."
While the brothers are meeting a lot of people on their African expedition, their close friends are naturally their travel companions.
Joaquín says: "Sergio was living alone in Ushuaia for 72 days when we met him on our Patagonian trip. He joined us when we went to Staten Island and loves the abyss so he wanted to come on this adventure. As for Jatyr Berasaluce, who just returned to Brazil, he's a childhood friend we met when we'd go on family holidays in Brazil.
"We meet lots of people who surf but finding waves on your own is incredible and a lot of people can't find them on their own. The waves are an excuse; to be honest, and it's all relative because the best moment is sharing so much with strangers that they open their doors to you."
Besides family and friends, Joaquín says he doesn't miss much from Buenos Aires. "An Argentine guy got in touch the other day and invited us to an asado, so that was cool. But missing food isn't a big deal: we'd rather have petrol to continue than fresh meat in the fridge."
Buenos Aires Herald, 26 May 2017