(T+L) In Argentina the Autumn season officially begins on March 21, and at the time the country's many destinations are at their finest.
Weekend getaways from capital Buenos Aires are diverse: It's harvest time at the foot of the Andes in Mendoza wine country, and up-and-coming region Uco Valley proves its mettle with luxury lodgings and classy wine flights. The crowds have slunk away from popular at coastal city Mar del Plata, mountain bikers will appreciate cooler climes in Tandil, while neighboring Uruguay's Colonia del Sacramento fuses colonial history with relaxing riverside retreats.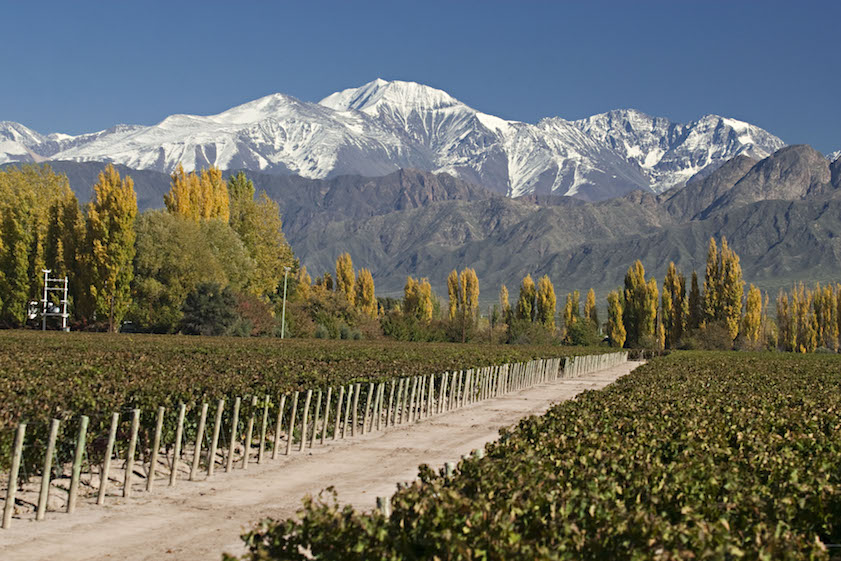 Uco Valley, Mendoza
A-buzz with vineyard activity, fall is undoubtedly the best time to head to Mendoza. The heart of Argentina's wine country, dozens of wineries proffer tastings, smart restaurants and vineyard lodgings. A two-hour flight from Buenos Aires, hire a car and drive to Uco Valley, 75 miles south of Mendoza city, a trendy wine region nestled in the Andean foothills that's going through a luxury revolution.
Expect a personalized experience at Casa de Uco, a family-led enterprise that includes a stunning 16-room boutique hotel and private vineyards project. The Vines Resort & Spa is another impressive offering. It's home to 22 luxurious villas, Francis Mallmann's Siete Fuegos restaurant, and all manner of harvest activities. As for those all-important tastings, head to SuperUco for an innovative boutique biodynamic experience; to Salentein or O.Fournier for breathtaking architecture and excellent luncheons; to Corazón del Sol, a US-based cardiologist's dream project; and Clos de los Siete, a grouping of five bodegas spearheaded by top French oenologist Michel Rolland.
For the rest of this article, please visit Travel + Leisure.