(Topia, June 2023) Ten million ways Turkish chef Ebru Baybara Demir brings hope
When you think of the figure '10 million', what springs to mind? Ten million euros acquired jackpot style, the population of a large city or a Macklemore tune? In the case of Turkish chef and social entrepreneur Ebru Baybara Demir, 10 million refers to the number of meals served in the three months following the Turkey-Syria earthquakes in February 2023 that measured 7.8 and 7.5 on the Richter scale. They struck western Syria and southeastern Turkey, where many refugees from the war in Syria were sheltering.
Creating the Gönül Mutfağı network to bring relief to some of the 18 million people affected by this devastating disaster is one of numerous humanitarian projects Ebru has led, proving that social gastronomy can spearhead development and progress while leading change in complex territories. In June, she won the prestigious Basque Culinary World Prize 2023 for her acumen in generating development initiatives.
Given her heritage and close relationship with food, using gastronomy as a positive tool in curtailing migration, conflict and economic hardships in Mardin, a city bordering Syria, was a natural decision for Ebru – but it hasn't been without its challenges. As Turkey is the largest recipient of Syrian refugees – over 3.6 million – time and again she has committed to supporting those in need.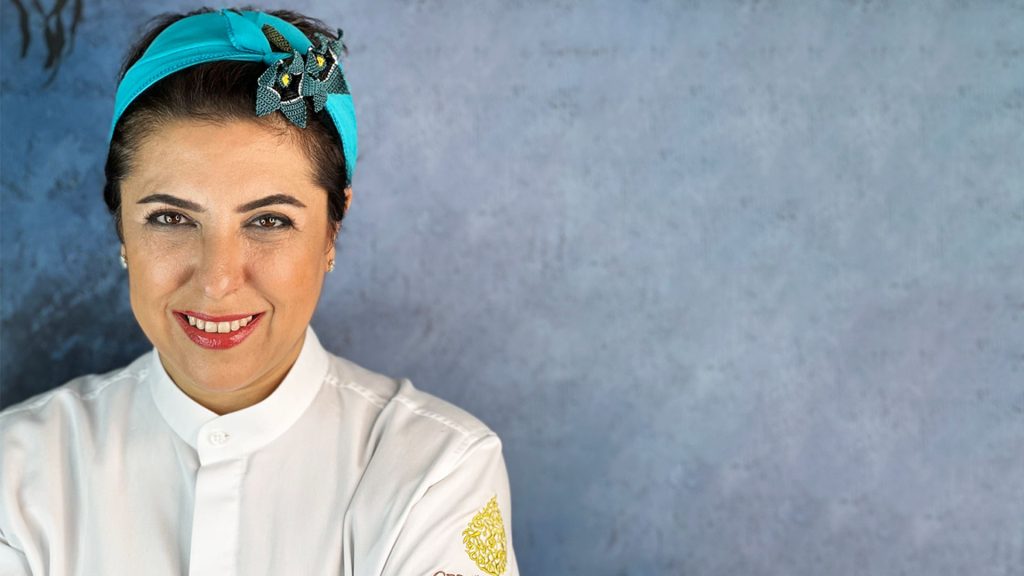 Over the past two decades, Ebru has empowered Syrian women through agriculture, set up the From Soil to Plate agricultural development cooperative, and trained Syrian and Turkish people in Syrian culinary traditions through the UNHCR-supported Harran Gastronomy School Project.
She's also given her city its own culinary identity by giving female cooks an outlet to share their traditional dishes. 
Ebru's connection to food began as a child as meals were always a feast in her family. As she describes it, "On holiday mornings, we'd wake up to the tantalising aromas of rib dolma that my mother had prepared the night before. I'll never forget the scent that filled the house and how much we enjoyed the dolma, along with the almond and parsley soup. Since a big part of our family lived in Kumkapı, we used to spend weekends there. We'd play games amid the aroma of pumpkin seeds, roasted chickpeas and walnut molasses halva, which my uncle roasted in his nut workshop. And the taste of lemonade and mastic cookies from the pastry shop on the corner, owned by an Armenian, still lingers on my palate. Now, when I think about all these things, I realise I have a rich sensorial memory built on scents and bold flavours.
"The scent of onions is the fundamental aroma in that taste bank. One day, my mother and I encountered artichokes at the bazaar. She had never cooked them before, and asked the women at the bazaar for tips. We tried them out together; we were the only ones in the family who would eat these dishes. Culinary skills were passed down from my grandmother to my mother, and from her to me. My ability to cook and everything I have learned about food is a culmination of the habits I developed from cooking with her."
The third daughter born to her parents in 1976, Ebru was raised in Istanbul by a traditional Anatolian family, at a time when girls were not as valued as much as boys. Regardless, her father moved them to Istanbul so they could become empowered, she says. Despite being raised with this gender negativity as well as struggles to keep the family afloat in Istanbul, she managed to draw from her parents' positive attributes.
"I'm the child of disciplined parents and our home had rules. Despite facing difficulties to provide us with an education, my parents never let us feel the burden. My mother struggled to raise us. She arranged flowers, sewed and sold her creations; she always had a backup plan. I learned to think of a plan B or C from her. Courage I took from my father, so thanks to what I inherited from my parents, I never fell into the depths of despair." 
These characteristics were key when, after graduating with a tourist guiding degree, 25-year-old Ebru moved to Mardin – a city whose social and religious culture didn't allow women outside without their husbands' permission – brimming with ideas to engender change and empower women through culinary arts and tourism. At the time, Mardin housed just a diner and a three-star hotel, so Ebru didn't have much to work with; in addition she had to overcome the patriarchal mindset.
"Inspired by the education I received in Istanbul," she recalls, "I returned to Mardin 25 years ago to begin initiatives that would empower women and enable them to earn a living and contribute to their households. I wanted to share Mardin's culture with the world, but the people involved in its agriculture were not yet aware of its value. When I brought groups of tourists there, they weren't satisfied with that [single] restaurant, so I developed a formula to accommodate their needs. I started hosting them at our family home, an old mansion, and my female relatives prepared traditional meals.
"Visitors appreciated our traditional flavours so I started organising meals at several other houses. I prepared the menus and enabled Mardin's women to earn an income from working at something they excelled at. During this process, I began cooking, mastering local recipes. As demand increased, and the houses we used could no longer accommodate so many visitors, along with 21 women who believed in me, we opened Mardin's – and the region's – first establishment aimed at tourists, Cercis Murat Konağı (Cercis Murat Mansion).
That was a groundbreaking situation 25 years ago as, again, there was a social order where women couldn't leave their homes without their husbands' permission. However, they drew strength and support from each other with their culinary achievements. As Cercis Murat Konağı's success started contributing to transforming Mardin into a tourist destination, women began working outside their homes. Over the next few years, I started engineering solutions from a culinary perspective within the community I lived in, for each issue that required a resolution."
For a Western woman, it's unfathomable to contemplate utter dependence on a male partner, economically and emotionally. Another numbers question: what were you doing 25 years ago? This writer, for one, was a student in London, working behind a bar, spending my grant and meagre wages on pints and books. I wasn't looking to initiate social transformation (though a year later, conscience pricked, I volunteered for an Argentina-based NGO in the sub-tropical jungle). While I was pulling pints and likely fellow students, Ebru sought change in Mardin – overcoming hurdles and obstacles flung at her from all angles. And while her tenacity and courage were, as now, formidable, it still took five years for the community to support her ground-breaking projects.
"Twenty-five years ago, the changes I wanted to initiate scared people, uniting them against the ideas and courage of a [this] young woman. But I stayed and chose to endure this mentality. If you want to do a job in a place that has low education and income levels, I believe that achievements and proof of success are more important than explanations. The first five years in Mardin were very difficult in every respect. But, at the same time, there were important achievements, both for me and for Mardin, and when you succeed and involve others in the success, the situation changes regardless of the circumstances. At first, I was alone, but as I shared those successes, the whole city stood by my side. I didn't believe in hopelessness; if I had, I probably wouldn't have progressed. There is always a way out. I have experienced sadness and had many challenges, but I've never been hopeless. I direct my energies into finding solutions instead of despair." 
Another pillar of Ebru's work in Mardin that contributed to her winning the Basque Culinary World Prize this year is conserving local farming heritage to preserve sustainability and diversity. As traditional farming methods have been replaced by modern agricultural practices globally, Mardin's traditional industry was similarly affected by this trend. Of particular concern to her was the emergence technology in seeds that enable higher yields in shorter timeframes.
As she puts it, "modern seed technology and farming methods are seen as a solution to meet the food needs of a growing population. However, the whole world knows the issues we need to resolve are the climate crisis, drought and the soil deformation they cause. We're talking about the last 60 harvests. At a time when food access is becoming increasingly difficult, the solution is to restore our soil to high yields and to obtain healthy food with good seeds, which is possible by cultivating ancestral seeds and applying traditional farming methods. But it's crucial to promote sound agricultural practices and conserve local farming heritage to preserve sustainability and diversity."
In a bid to tackle climate change, drought and the soil deformation, Ebru founded From Soil to Plate in 2017, a project that not only works to restore traditional farming methods but also encourages farmers to cultivate sorgül, an ancestral wheat.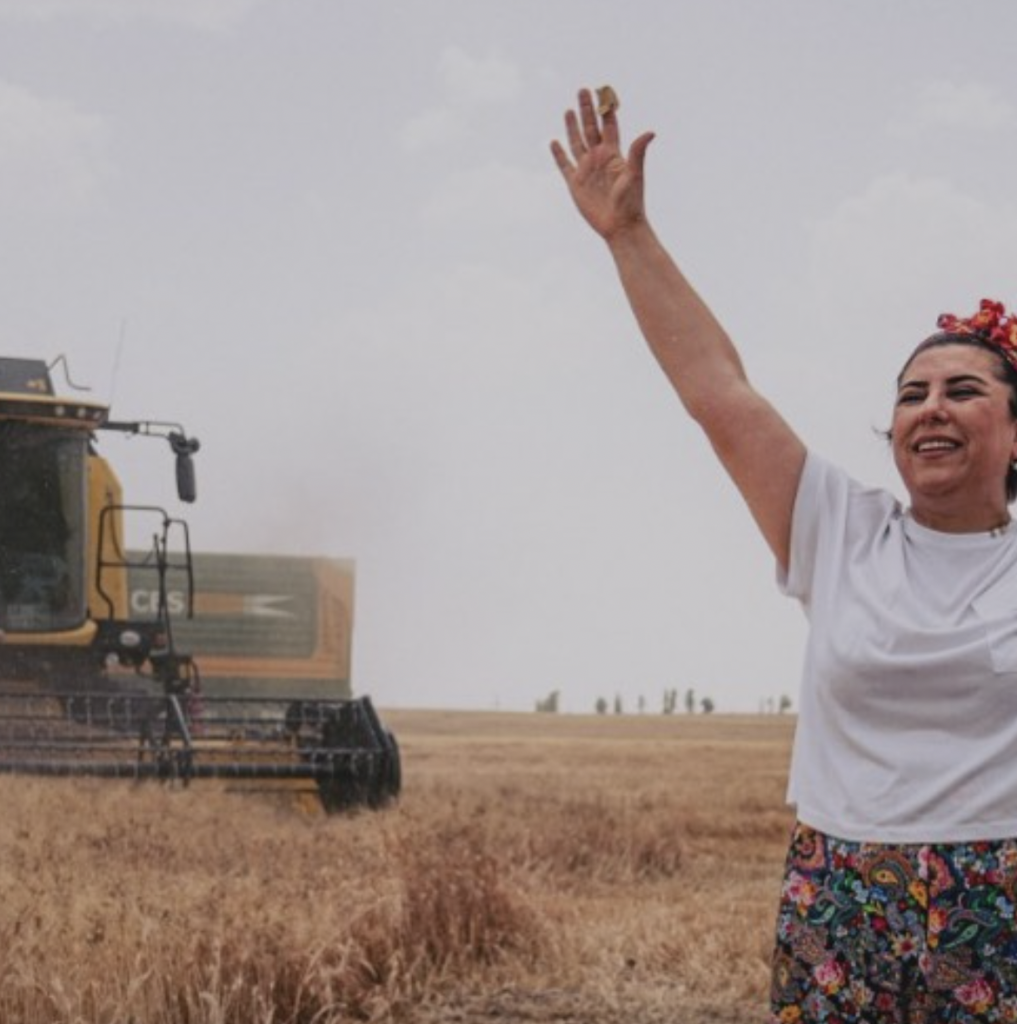 "Sorgül's story started in 2017 when 70 female farmers planted seeds on 40 hectares of land belonging to two participating landowners. Today, more than 300 farmers cultivate sorgül using traditional farming methods, with an increasing yield every year on 1,000 hectares. Sorgül also laid the foundations to our cooperative, which we started with the logic of community volunteering. That has turned into a structure with five businesses that contribute to local development and employment with the same perspective."
It's these types of projects that unite people that prove social gastronomy can lead development and progress, says Rafael Rincón, president and co-founder of Chile's Gastronomía Social foundation, who visited Ebru in Mardin in 2022. "For the past 20 years, she's been the protagonist of a movement that uses Mardin as an example of when good intentions toward social impact and social development align with social gastronomy, wonders can happen. In addition, this is a woman who – in an extremely chauvinistic country – has come out ahead to lead a spectacular network of women," he says. 
In the wake of the horrific natural disaster that devastated parts of Turkey and Syria in 2023, Ebru set up the Gönül Mutfağı network, uniting more than 3,000 volunteers to feed earthquake victims: together, they prepared 10 million meals in three months in various cities. 
She says: "The day of the earthquake, I was in Istanbul and hit the road as soon as I found out my family was fine. First, we set up our soup kitchens in Osmaniye, then in Adıyaman, Kahramanmaraş and finally in Hatay on 9 February, then we focused on Hatay because there was a huge need.
We set up Gönül Mutfağı on a voluntary basis to meet the needs of earthquake victims for hot meals and food in Iskenderun, Hatay. We tried to provide support by doing what we know best, cooking. In doing so, I addressed the needs of food and people through the cooperative I lead. With the support of the Ministry of Youth and Sports, we worked out of İskenderun Student Dormitory's kitchen. From 10 February, we provided a daily meal service consisting of 120,000 portions – and continue to do so.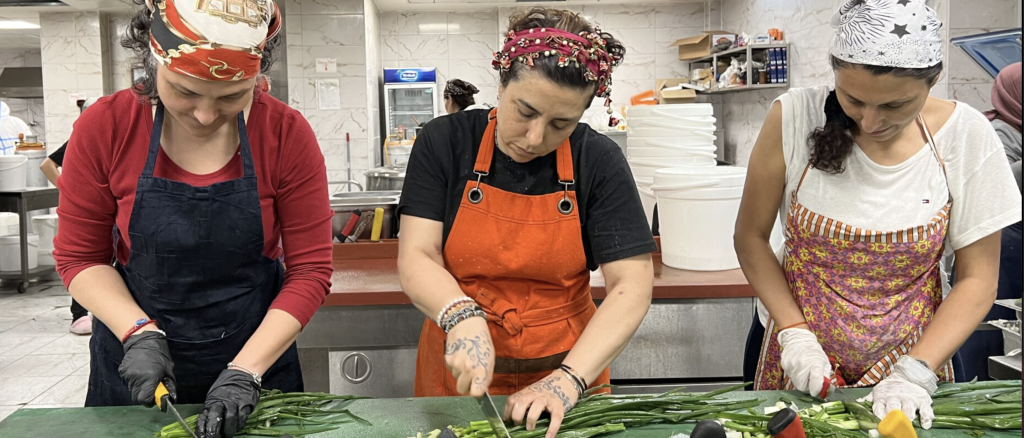 "We've experienced many heartfelt moments with the Gönül Mutfağı family and the local community. We celebrated holidays together, commemorated the passing of loved ones, and shared many things with the local people. But I believe the most important thing to convey is that in this kitchen, gastronomy has become something that heals people. It has helped not only those affected by earthquakes but also those who wanted to lend a helping hand. We have manifested the healing power of gastronomy by cooking meals and embracing each other during our darkest moments.
"One of the most significant lessons I've learned from these experiences is how valuable it is for a community to support each other. While Gönül Mutfağı aims to provide accessible healthy meals to people, it also emphasises the power of collaboration, unity and mutual support. By embodying these values, we aspire to continue making a positive impact in people's lives and offering assistance to those in need."
About the Basque Culinary World Prize
Given the many transformative initiatives Ebru has created and leads, the Basque Culinary World Prize – known as the Nobel of the culinary world – recognised her work, awarding €100,000 so that these vital projects can maintain momentum. US-based French chef Dominique Crenn, who is a member of the prominent International Council of the Basque Culinary Center jury, called Ebru "a true social entrepreneur because she has risen up and served her community in times of humanitarian crisis and disaster. Not only is her work an example for all of us, but her intention and purpose for humanity are also the ultimate gifts."

Catalan chef Joan Roca, jury president, said: "Ebru is an extraordinary example of humanity, commitment and strength. Her work highlights how food can be used to integrate refugees and displaced people, and its ability to generate development opportunities. Her efforts also demonstrate the role of food in creating space for dialogue between different, and even contentious, cultures."

What's so good about this?
"The objective is to transform Gönül Mutfağı into a sustainable model that can create its own resources," says Ebru. "Food, as always, is a tool for transformation and the kitchen's  purpose is to ensure sustainability by using cooking as a tool. Establishing systems that allow people to rebuild their lives and return to their lands is necessary for the local community. I intend to allocate the prize money towards supporting our soup kitchen and continuing to serve breakfasts in schools across Hatay throughout the September-June period of the upcoming academic year."

Follow: @ebrubaybarademir and @cercismuratkonagi on Instagram, @EbruBaybara on Twitter and basqueculinaryworldprize.