(The Drinks Business) Hollywood director Steven Soderbergh has launched his Singani 63 brand – a Muscat of Alexandria-based spirit made in Bolivia – in the UK.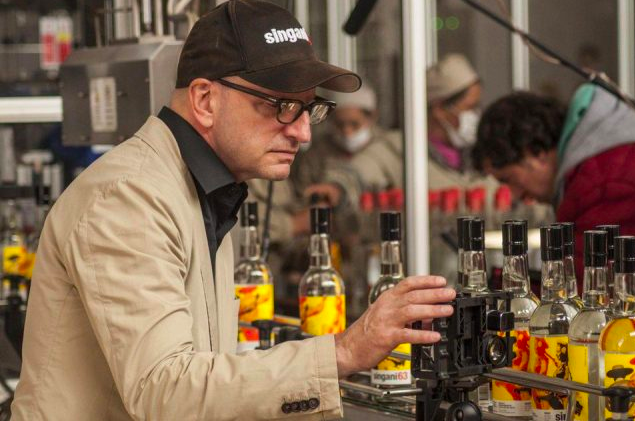 The film director turned spirit purveyor was in London on Monday to launch his pet production – Singani 63.
After falling for the Bolivian spirit 11 years ago while shooting the film Che in Bolivia with Benicio del Toro, he later teamed up with Casa Real, a Tarija-based distillery, to become the sole exporter of its black label in 2014.
A little-known white spirit, singani has been produced in Bolivia for five centuries, which fascinated Soderbergh, spurring him to bring it to a larger audience.
The result is Singani 63 – named after his year of birth – and Soderbergh is on a mission to unleash Bolivia's best-kept liquid secret on the world.
Known for its fragrant, aromatic aromas and smooth mouth-feel after a double distillation at 1,850 metres above sea level, Singani 63 has been available in Soderbergh's native US for the past three years.
Produced in a similar way to Pisco, the main differences are that singani uses a single grape variety, Muscat of Alexandria, and is only sourced from Tarija in mountainous southern Bolivia, an area also known for Tannat production.
A move into the UK, however, is key for the director, potentially boosting his case for singani to receive its own classification in the US.
Soderbergh told The Drinks Business: "Two crucial forms of inspiration for me were created in the UK – The Beatles and Kingsley Amis' book Everyday Drinking.
"Launching Singani 63 here is my small way of expressing a lifetime of gratitude."
Top US bartenders Ivy Mix of New York City's Leyenda and Alex Day of Denver's Death & Co, were on hand at the event at Flemings in Mayfair, to prove singani's versatility.
Mix's Point Being cocktail, a blend of Singani 63, rye whiskey, Massenez plum brandy, Moscatel and aromatic bitters, was a smooth hitter, while Day's The Bounce House starred Singani 63, gin, dry vermouth, Amaro Nonino, pineapple gum syrup, pêche de vigne, fresh lemon juice and a fresh peach garnish.
Soderbergh, however, recommends it on the the rocks – his preferred method of drinking it – for the fully expressive experience.
Please visit TBD for this story.