(Buenos Aires Herald) Paris captured a teenage Mauro Colagreco's heart when he visited his sister who was on a study abroad programme. The seed inadvertently sown, a few years later Mauro dropped out of university to follow his culinary dream. The La Plata-born chef has lived in France for the past 16 years and his restaurant Mirazur recently ranked sixth at the World's 50 Best Restaurants 2016.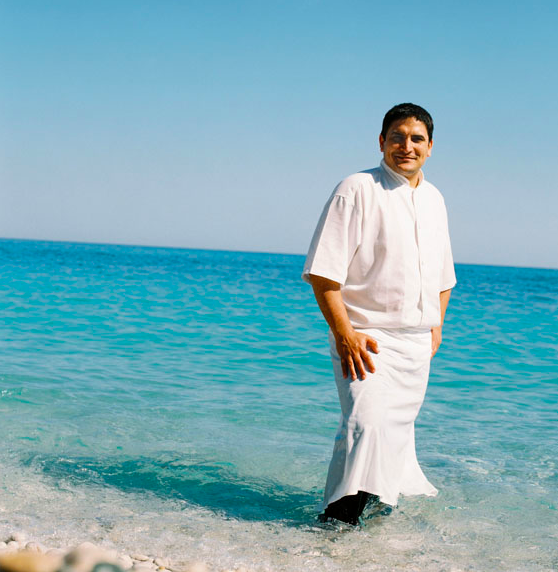 Mauro says: "I went to France for the first time when I was 18 to visit my sister Laura, who was studying at the Sorbonne. Although I'd already travelled around parts of Latin America, it was my first time in Europe. I loved the ville lumière and it was an amazing discovery for me. I fell in love with that city.
"My holiday ended and I went back to Argentina to study economics at La Plata University. By the end of the second year, I realized it wasn't for me. So I said to myself 'why not try cooking' which I enjoyed but had never thought about doing professionally. So I started studying [at Gato Dumas] and quickly realized that if I wanted to advance, I'd have to move to France. Everything I was reading and learning indicated that path. I found a way to get there, got into Lycée Hôtelier de La Rochelle hotelery school and went to France with the idea of staying for a few years and getting some work experience under my belt. That was 16 years ago – and how my path has changed!"
French culture
Learning his trade in a new language wasn't always easy, he says, but his talent shone through regardless, landing him a job with a three Michelin-starred chef.
Mauro says: "I didn't have much French – it was a base from an Argentine public high school so in fact it wasn't a very big base! The French are quite rigorous when it comes to their language and won't speak to you in anything else. And the biggest cultural difference was the fact that I found culture in everything, which was amazing: the markets, products were all so different for me, and people being artistic within the food industry. Everything has culture behind it and once I discovered that, I liked it a lot. That helped me to take the decisions I eventually took, so that I stayed here even longer.
"I studied in La Rochelle and after the first year I had to undertake work experience. Fighting against the tide and using my few contacts, I got a placement with Bernard Loiseau (a three Michelin-starred chef]). After four months at La Côte d'Or, Bernard created a position for me to stay on, so I decided to take up that offer and not return to school. It was Bernard who opened the door to France's gastronomy scene to me and I worked with him, living in Saulieu near Dijon, until he died [he committed suicide]. That's when I moved to Paris."
Dream by the sea
Time spent in several Parisian kitchens ensured Mauro gained even more valuable experience, and the time came for him to consider opening his own restaurant in Europe. "My dream was to open up close to the sea so I started looking for spaces. The problem was I hadn't saved up much money so the options were between few and almost nothing. One day, I bumped into some friends at lunch and brought them up to date with my life and my plans. They told me they knew a place.
"The owner eventually called me and I flew to the Côte d'Azur: it was autumn and raining all the time in grey Paris. I landed in Nice, it was sunny, people were eating out on terraces – amazing! And while I was really impressed with the restaurant, I was also disillusioned with the fact it was so big and would be impossible to invest in.
"But he rented the space cheaply to me for the first few years and said, 'if you like it and it works out, then we'll talk about it and see how we can finance it better.' That was my big opportunity. I jumped in at the deep end without ever having worked on the Côte d'Azur and without knowing anyone. And I have no regrets!" Obviously not: Mirazur ranked sixth at the World's 50 Best Restaurants 2016 awards in May and just celebrated its tenth anniversary.
Make it Menton
Mauro and his family live in Menton, a small town close to the Italian border and a stone's throw from Mirazur. He says: "Menton has about 35,000 inhabitants though its population triples in summer. It's close to Monaco and the Italian border and it's idyllic, very peaceful. I live in a residential area called Garavan 300 metres from the restaurant, plus Mirazur's own orchard is next door to my house. The architecture in Garavan is Genovese, all Italian yet made in France, and being in Menton is a little like stepping back in time – we're doing very well here.
"Menton is so lovely I try and stay here rather than travel around because this part of France is divine. When we want to escape, we go to the mountains behind town as it's cooler and has fewer people. But for the ultimate in peace and quiet, we go to the village of Castellar."
Besides running Mirazur in the south of France, Mauro also manages restaurants in China, which means the La Plata transplant doesn't have much free time. "I dedicate what spare time I have it to my family and there isn't much, to be honest. I used to play rugby, practise tae kwon do and go swimming when I was younger, but when I started cooking I left all behind! From extreme sports to being quite sedentary! These days I do a bit of yoga and run or walk a little."
Bagging a baguette
After 16 years in France, Mauro says his most French characteristic is his daily visit to the boulangerie. "I go to the centre of Menton to a local bakery with a wood-burning oven dating back to 1906. Using wood like in the old days means it's crunchy on the outside and holey on the inside, and I cover it with good butter. As the mountains are close to the coast, there's a great mixture of climates and products. The butter I use in both the restaurant and at home comes straight from a little producer up in the mountain."
And besides his friends and family in Argentina, Mauro also misses his dad's barbecue skills and having a casual social life. "I miss simply dropping by a friend's house without having to make an appointment in advance. And I also miss my dad's asado plus my mum's gnocchi. Some people are very attached to their way of life, but to be honest, in various ways I'm not that sentimental, which is probably why I've been able to live in another country."
Ph: Christophe Boulze