Headed to Masticar? The back entrance is the new way in.
By expanding Buenos Aires' biggest food festival by a whopping 40 percent in area, smart foodies need to head to Concepción Arenal rather than the Zapiola one unless you pre-purchased tickets.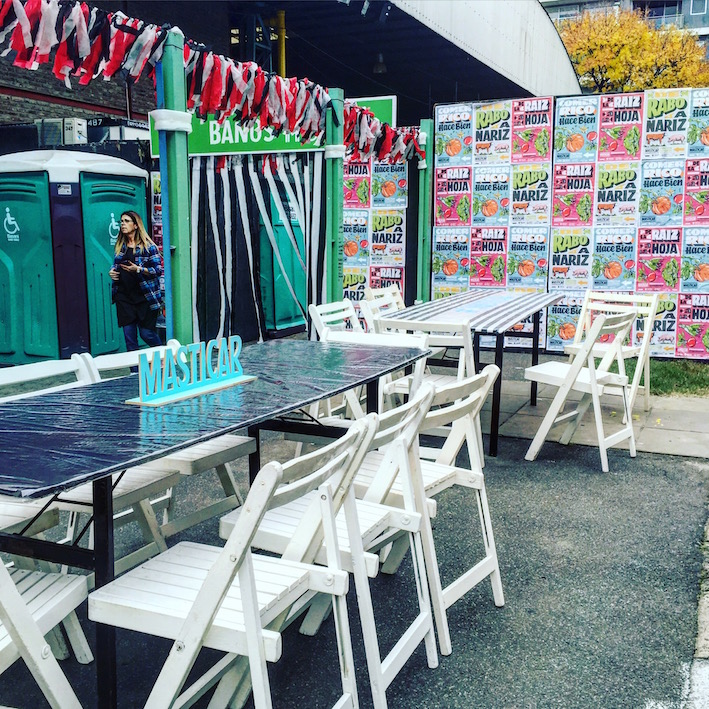 The line started before midday on Thursday, which sucks the fun out of any such event. 
Once you're in, head for the Brasas section, usually known as Colegiales sports centre. While big names such as Narda Lepes' Boca de Lobo, Tegui and Don Julio are in this smoking sector, this new zone was relatively undiscovered Thursday afternoon, a dignified place to order, eat and hang out.
Don Julio's entraña is as spectacular as always; look out for curious mandarin colour limes for squeezing on sweetbreads.
If you need a pick-me-up, Florería Atlántico's adorable truck is blooming with drinks. I kept it soft with a refreshing elderflower lemonade.
Next up, purchase a batch of vouchers. A 200-peso strip of #MasticarMoney will just about take in a starter, main and dessert, if you're thrifty.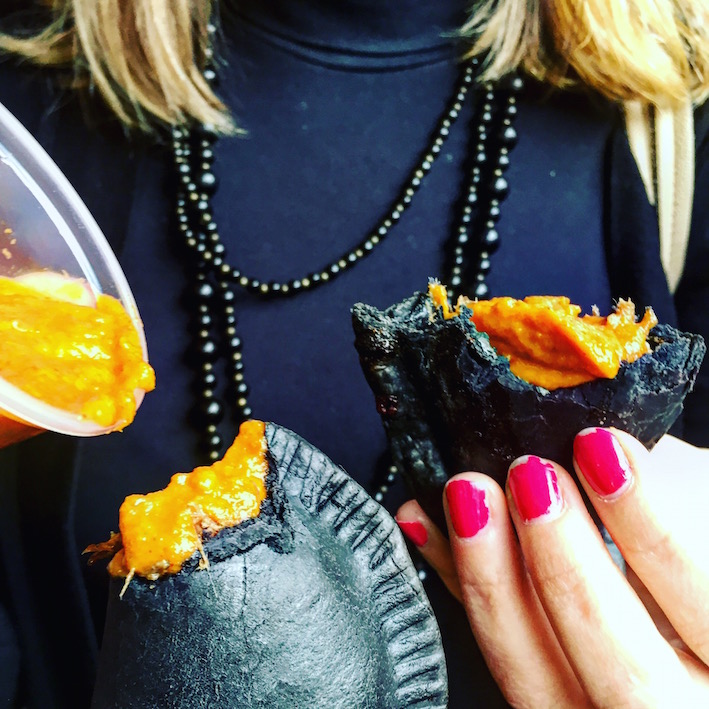 On to the grub and it's a mammoth list of goodness given the vast array of food trucks, carts, stands and bars on offer this edition. Epic, in fact. Getting through my tick list (never mind the market so don't expect any tips, sorry) was not easy but here are my shortcut musts:
Chila's flank empanadas al vació, 80 pesos. Black is back and in empanada shape thanks to Soledad Nardelli. Slather your two bountiful packages that are absolutely rammed with tender beef in orange hot sauce, and you'll find orange and black are the new black empanada – they're back and they're here to stay.
iLatina's chicken arepa, 70 pesos. Colombian boy wonder Santiago Macías' Masticar hit is arepa de pollo asado. Topped with fennel, yellow chilli and spicy pineapple, spicy, sweet and savoury blend seamlessly atop this crunchy arepa.
Tamales de Chicoana, 50 pesos. These ladies from Salta are known for their award-winning tamales. Choose from charqui dried beef, beef head (my selection) and beef.
Los Petersen's potato waffle with brie and salmon gravalax, 80 pesos. Creamy, crunchy, fishy, smooth, a lovely brunchy kind of meal. Christian and Robert's choccie dessert in a  mini plant pot (recycle it!) gets my vote for cutest design.
Ciervo de Oro's bohios and knishes mix, 40 pesos. Tasty, savoury pastry bite, three in one hit.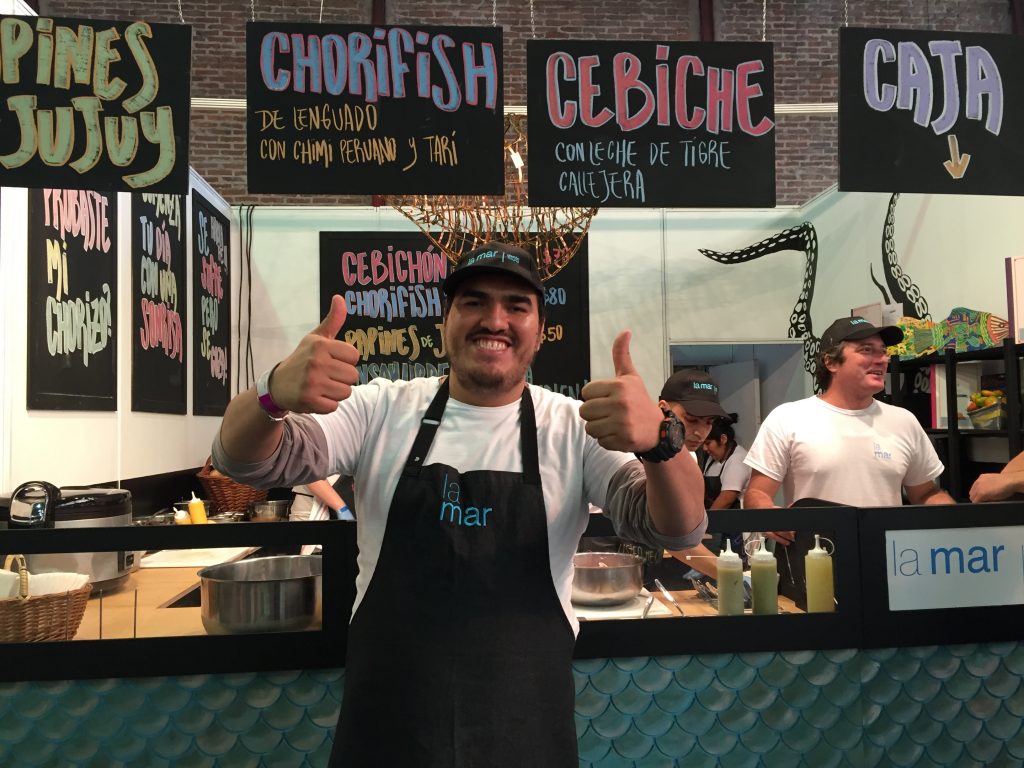 Expect queues at: La Cabrera's choribondi.  The grill is set up on a stage on this bus, turning parrilleros into the rockstars they rightly are, and the punters love it.
At La Mar. Anthony Vasquez's chorifish sausage and Cebichon ceviche are out of control.
Also at Carne, the Mauro Colagreco food truck which proves burgers are still in fashion, even if they are tiresomely dull these days.
The other big gun is Donato De Santis at Cucina Paradiso. The MasterChef co-host is already a target for selfies with foodies, and his milanesa pork sandwich does sound tasty.
Stuff I wanted to devour but didn't have the right trousers for: the alligator empanada by Fer Rivarola of El Baqueano. I'll always give curious cuts a go.
Tegui's rosehip ice-cream sounds lush and Germán Martitegui's hand is usually sublime.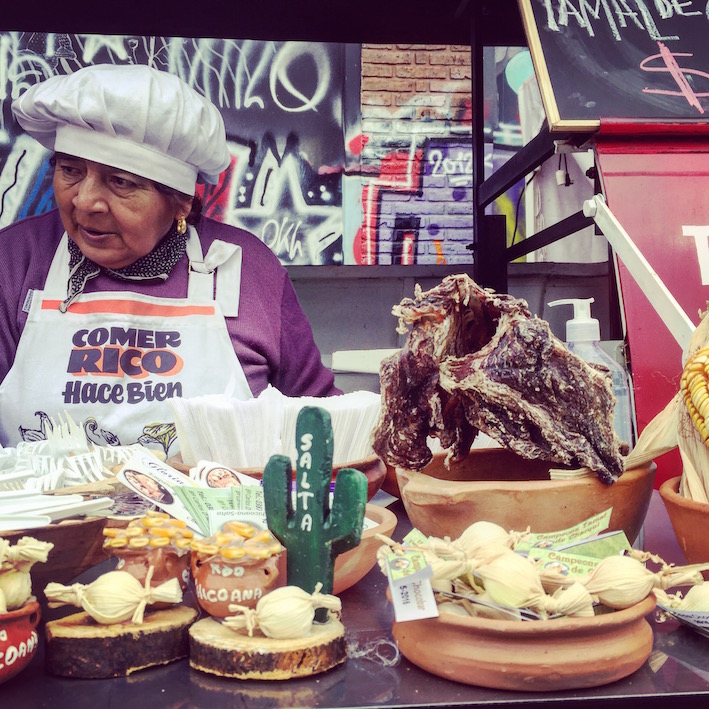 Anything by Guido Tassi. This guy goes about his business quietly, but he ranked in the Latin America's 50 best Restaurants 2015 list, is on the telly and is a general – and refreshingly low profile – food god.
Elderflower petal sorbet from Bariloche's Cassis. Perfect way to sample this top establishment's wares without forking out on an air fare.
A notable absence includes Francis Mallmann, who is likely taking a well-deserved break after catering for the Sommelier World Cup in Mendoza. The upside is you won't have to dry-clean your jacket on Monday.
Intel:
Masticar, Zapiola 50, Colegiales
Entry: 80 pesos
Dishes: Buy your Masticar money to purchase dishes costing 50, 70 or 80 pesos
May 5, 2pm-11pm, May 6-8, midday-11pm