A round-up of this week's foodie, drinky events in bite-size format.
Dario's bistro
Dario Gualtieri (ex-Casa Umare) has thrown open the doors to his latest project, an eponymous bistro.
Its Palermo location in Little Armenia, in a stunning mansion, is quite the setting, sporting original ceramic floors and a glorious stained glass door into the patio.
More importantly, his tasting menu looks delicious. I lunched there this week at a private event and it certainly is promising.
Changing up every seven days, a bargain 600 pesos gets you six courses and wine pairings.
Full report coming soon.
Armenia 1378, Palermo Soho
Tel: 4773-7790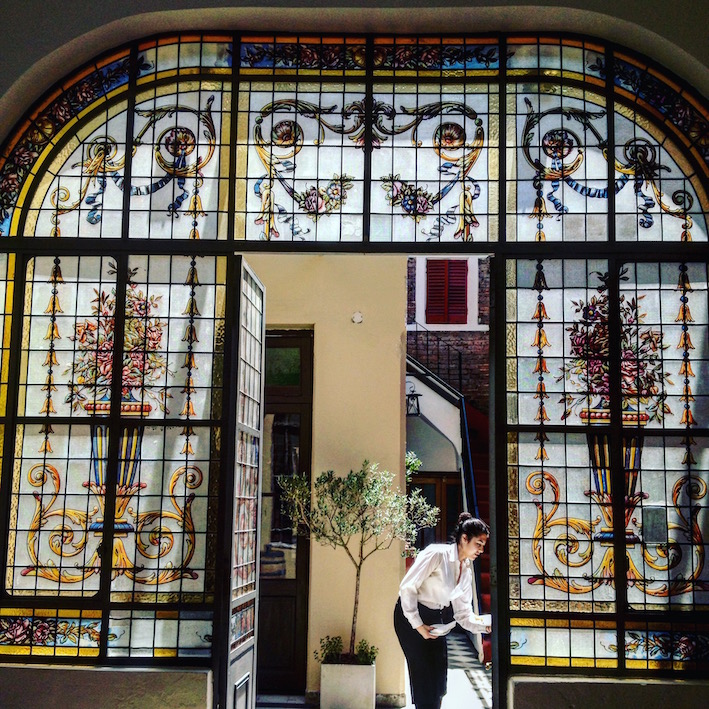 Wine fairs
A busy next seven days in the wine world awaits, with Vinos de Lujo and Sparkling Nights dominating affairs.
The 14th edition of luxury wines gathers Argentina's top bodegas in the luxurious setting of the Alvear Palace. Tickets cost 700 pesos.
Feeling particularly flush? On Wednesday, November 4, La Bourgogne's Jean Paul Bondoux is preparing a lush Vinos de Lujo menu, where you can taste up to 60 top wines in a more relaxed atmosphere for a mere 3,500 pesos.
Alvear Palace Hotel, Ayacucho 2071, Recoleta
November 3 and 4, 6pm-10.30pm for the general public.

Funckenhausen Red Blend 2014
Funckenhausen Vineyards has released its youthful and eponymous red blend in one-litre format — which was created for the US market where size matters — in Argentina.
At first sniff, I thought it was a Bonarda due to its rose nose. Sweet red cherry and plum dominate, more floral notes thanks to the Malbec then pop up, and the upshot is a fresh, young red blend that will easily see its way through an asado.
What's interesting about this winery is that three generations are crammed into its 10-year history.
Aged 70-something, Kurt Heinlein's entrepreneurial spirit reared its head and he turned his hand to wine.
That was a decade ago. Grandson Alejandro Leirado Heinlein now takes care of marketing, and has very much been the player in guiding winemaker Mauricio Lorca towards targeting a younger drinking market.
Funckenhausen Red Blend 2014, Funckenhausen Vineyards, San Rafael, Mendoza, 120 pesos, is 50 percent Malbec, 35 percent Bonarda and 15 percent Syrah.
The Syrah is of particular relevance to Kurt, as those were the first vines he planted.
It's 1,000 millilitres of fun! What are you waiting for?
New hope #3
Sibling-run tapas bar La Esperanza de los Ascurra has branched out from its Villa Crespo and Palermo Hollywood homes to upmarket Recoleta. Now neighbour to Harturo in the delightful Pasaje de Correo, expect well-priced tapas and Spanish-style caña beers at La Esperanza's third space. A more elegant affair, order the squid ink-rice with pork and prawns, topped with a dollop of mascarpone, to share.
Vicente Lopez 1661, #15,
Recoleta
Morfilandia
This takes the prize for Argentina's best-named food festival, and "Grubland" sounds so much better in Spanish…
Patagonia's latest eat and greet comes from the good folk behind Sal de Aquí salt, and has a hip all-star cast of chefs including Leandro Cristóbal (Café San Juan), Anthony Vázquez (La Mar Cebichería) and Mariano Ramón (Gran Dabbang).
Taking place on the outskirts of Trelew, Chubut, at Chacra San José, this 'meating' presents an ideal opportunity to get away and eat Patagonia style for the weekend.
Chacra San José, RP 25 km 4.5
November 14-15, 12pm-8pm
Tickets 50 pesos
Buenos Aires Herald, November 1, 2015