"Our fish is delivered directly to us from Mar del Plata," says restaurateur Martín Waisman, the front-of-house face from the brotherly trio behind Palermo Hollywood's brand-new 6to Brasserie that opened a month ago.

No middle man or excursion to Chinatown or Central Market? Straight from the fisherman to the door (pretty much)?
This spells news of the most excellent variety.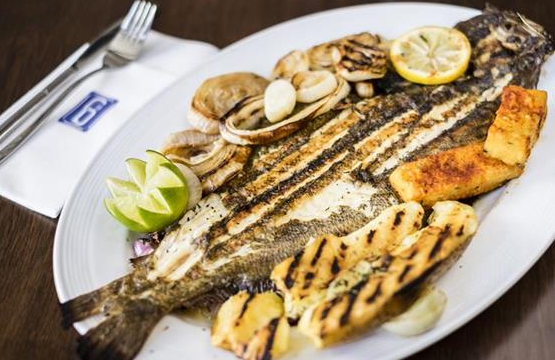 You'll know the Waismans better for successful projects such as Fervor and Sottovoce and this, their sixth establishment, is a change of tack. New neighbourhood, a fresh bistro look and a menu that focuses on fire. Okay, certain similarities to Fervor, but less hip replacement, substantially more hip.
Doubling up as the eatery to CasaSur Palermo hotel, which opened in August, 6to is already doing a roaring trade. No surprises there; they have quite the fan base.
But it's a challenging location change for the Waismans' die-hard Recoleta gang, who also might be reluctant to turn onto a more contemporary menu feel that includes surf (whole grilled fish, grilled and fried prawns and squid), turf (various meat cuts, burgers made with 21-day aged beef) and pasta.
Catch of the day
Let's go straight to the fish. Last Friday's daily catch was pescadilla, AKA small hake (290 pesos), which certainly wasn't pocket size and is definitely for two.
Whole, grilled over apple wood, a little sea salt and olive oil and bingo. Granted, it's a boney bugger, a situation not helped by two waiters having a go slicing it up when shifts changed, but it was fresh, succulent, bursting with flavour. Fresh grilled fish! Huzzah.
Prawns, however, are a different story but it's well known that fresh langostinos are not a veritable purchase in Buenos Aires. (Some even talk of a prawn mafia…) Regardless, give the a las brasas boys a go, backed up by tabbouleh and grilled fennel (140 pesos).
I also gave the seafood tagliolini (180 pesos) that's topped with grilled prawns in a tomato ragout (that's how fire puts in an appearance in this dish) a whirl. Chef brother Alejo makes his pasta in house, indeed bakery, ice-cream, the works are constructed on the spot. Al dente but with that slight raggedness that gives away its origins, superb.
Other notable dishes include tuétano with spinach spätzle (170 pesos), a small yet sumptuous bite each of bone marrow and ample green wrigglies; a gooey tasty mash-up of tomatoes wrapped in local prosciutto and parmesan (95 pesos); and English-style sausage, not too fatty, on a tasty and hearty lentil-based ratatouille (170 pesos). All dishes are for sharing. And share you should, to max out on flavours and textures.
Table condiments are also top range, from Garzón extra virgin olive oil sourced from Uruguay to three types of paprika — smoked, sweet and spicy.
Service is attentive if a little brisk while they find their feet. Décor fuses between beach house thanks to seaside artwork and modern French bistro; ponchos are available for cooler nights out on the patio.
The upshot is this: fresh ingredients and a whole lot of homemade loving is one thing. But with a successful restaurateur team brimming with knowhow, plus the understanding that it's time to revamp… unstoppable.
The best bit (besides the reasonable prices)? Open for the dawn chorus for breakfast through to midnight, 1am on weekends.
Don't rely on your sixth sense: just go.
6to Brasserie
Costa Rica 6038,
Palermo Hollywood
Tel: 15 5149-4642
@sorrelita
Buenos Aires Herald, 19 October, 2015