"If it were socially acceptable, I'd marry a choripán." Sassy and saucy, just like her written words, that's how the first episode of Pick Up The Fork's eponymous TV show hits your TV screens.

Allie Lazar came to Buenos Aires a vegetarian nine years ago.
"My household was very healthy and my dad was a food Nazi," she says, but it didn't take long for that to change.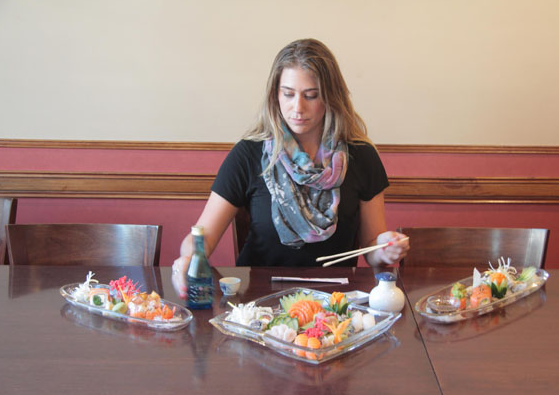 In my Buenos Aires Herald expat interview back in May 2012, I asked Allie when vegetables stopped rocking her world. The reply? "When I lived with this lady in Recoleta. She told me: 'I'm not going to cook vegetarian food for you. It's Argentine beef so you'll like it.' I'm easily persuaded… she cooked a beef stroganoff, which was okay but not great. In that first year I gained 10 kilos, because I was eating all the bread from the restaurant baskets."
Needs must, and a girl can't exist on crumbs alone. And so began Allie's adventures into Buenos Aires' dining scene, sampling wares from grubby-looking carts and stands to fine dining as well as everything in between.
Allie says: "I started a food blog as I like to eat — a lot — and at the time, there wasn't any information on Buenos Aires restaurants that I trusted. When I went out, sometimes I'd eat something good and sometimes it was bad, but I started taking photos of my food like a crazy person and thought it would be a good outlet."
Put down the…
That outlet was Pick Up The Fork, a fun and feisty blog that filled a gap in the market, not just for English speakers in Buenos Aires but also porteños looking for real opinion on where to eat, backed up by great images.
The blog's name came about after a phone call with the aforementioned "food Nazi." Allie adds: "I put on weight when I came to Argentina and was upset. I talked to my dad about it and he said 'Well, you should put down the fork.'" The rest is history.
She says: "While the blog is aimed at an English-speaking audience, the show is in Spanish and for an Argentine audience so I try to have a variety of eateries. The first episode is about parrillas, so there are personal favourites as well as recommendations for everyone, somewhere you can take your grandma. Each episode is themed and the second one, Invasión Asiática, is out tomorrow."
Elasticated waistband…
For the 10-part series, Allie and her UN3 crew filmed at over 90 restaurants, sampling at least three dishes at each one. And despite donning trousers with an elasticated waistband (unconfirmed at press time), the hungry team made one fatal schoolboy error.
She adds: "Filming was mixed up and started at 9am going on until midnight, so we covered the parrilla and Asian food episodes the same day. On day one, and because I'm a fatty, we'd have sushi for breakfast, then steak mid-morning before ending up at El Pobre Luis for kidneys. We basically learned that we couldn't eat everything."
But that's the key to the Fork's continued success, and producing a local show for a local audience — en español – is the icing on the cake, the chimi for your entraña, the pan for a chori.
Allie loves what she does, she's refreshingly honest plus she's legit: "Someone who does food TV once told me they spit out the food when they're not on camera!" I know who she's talking about and call for the immediate resignation of *****…
Rest assured that definitely does not happen on Pick Up The Fork's watch; her seal of approval?
She samples everything, then tells you the truth.
Buenos Aires Herald, October 11, 2015
Ph: Courtesy Pick Up The Fork